When you sit down to roll your own herb, you'd be pretty lost if it wasn't for a good rolling paper. Even though these thin paper wrappers are a necessity for rolling your own, most people don't realize just how many options there are with rolling papers and how those options can affect the end experience. Here is a quick-rolling paper buying guide to give you an idea of which joint paper may be right for you.
What are rolling papers?
A rolling paper, which may be referred to as a blank or joint paper, is a sheet of thin paper made from either wood or plant materials that is used to roll herb for smoking. The papers usually come with a thin strip of adhesive along one edge to seal off the joint after rolling and can have various attributes depending on the manufacturer.
What are the best rolling papers made of?
No matter what way you prefer to enjoy your spliff, you can find a rolling paper to accommodate your preferences. These days, you can find options where sizes, materials, and even flavors or appearances are concerned.
Use Code "PAPERPLANES" for 10% Off Papers When Cart is Over $10
The Different Types of Rolling Paper
The common assumption is that joint rolling paper is all made out of wood fiber just like any ordinary paper, but that's not actually the case. Many join rolling papers available today are all about safety, so many are made with various non-wood or plant fibers like:
Flax

Rice straw

Hemp

Esparto

Sisal
When joint papers are made out of wood pulp or fibers, they typically have to be treated with additives to keep them burning slow. For those who prefer a more natural smoke, however, it's best to go with papers made from other plant materials that don't require the same treatments.
Most papers are relatively wispy or thin and flexible, but this simply means you get a good, clean burn without a lot of excess smoldering material. However, you will find that some materials make for a thicker rolling paper than others. For example, those made out of rice paper can be especially thin in comparison to papers made out of wood pulp.
Rolling Paper Sizes
The standard rolling paper will be somewhere around 2.75 to 4.33 (70 to 110 millimeters) inches long, and the widths can vary. However, you can find everything from "slim" and "minis" to "king-sized" papers. The usual sizes include:
Single wides

1 1/4-inch

1 1/2-inch

Double wides

Kings

King slims
Each paper size has its own perks. For example, single wides are good when you're rolling herb just for yourself. The papers are smaller in length and width and don't hold a lot of herb. However, if you are rolling to share, you may prefer a king-size paper that can hold more herb and offers more hits per joint.
Flavored Rolling Papers
Mint, coconut, bubblegum, blueberry—you can find rolling papers in all kinds of flavors. Essentially, the papers are going to add another layer of flavor to your herb, and can actually yield a complementary flavor to some terpene profiles. However, proceed with caution with flavored paper; you will be inhaling the smoke and whatever burned flavor additives were used in the creation. So, synthetic flavor additives may be something to avoid for safety.
Novelty Rolling Papers
Rolling your own herb can get pretty interesting with novelty papers. From crystal clear joint papers made of plant cellulose to actual gold joint papers made of 24k gold, you can get all kinds of creative with your rolling endeavors. Some papers even come printed with different designs like flags, wording, or graphic images. You can even find papers like Benjis, which look straight up like a one-hundred-dollar bill.
Bleached vs Unbleached Rolling Papers
Some rolling papers are treated with a chlorine-based agent to whiten or lighten the material and make it more white. While some people prefer this, many prefer a more "raw" paper without those chemical treatments. You can usually spot papers that are unbleached simply because they may be more tan or brown in color.

Top Rolling Paper Brands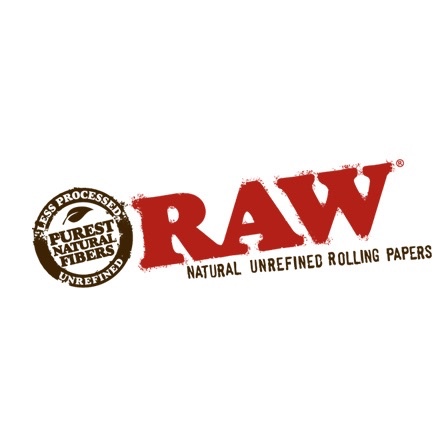 Which joint rolling papers you prefer is really a matter of preference. Some people find they enjoy the all-natural options, while others like the more traditional burn. No matter which rolling paper is your fave, you can always count on some of the best-known brands to make sure you get a quality roll and a good smoking experience. A few of the top rolling paper companies include:
Most people have their go-to brands after they get a little joint-rolling experience under their belts. But, it never hurts to branch out and try some of the lesser-known brands that could offer an even better experience.
The History of Rolling Papers
Rolling papers were most likely created out of necessity when people had no tobacco leaves to roll and smoke their tobacco. The true source of where rolling papers actually started is debatable. Some claim French soldiers carried their own homemade rolling papers with them in the 1500s. Others claim rolling papers were created because European settlers were using old newspapers to roll tobacco here in America and someone decided there had to be a better way. The very first rolling paper company was the Lacroix Rolling Paper company, which was started in 1660.
Pick Up Quality Rolling Papers and Smoking Accessories for a Quality Experience
When it comes to smoking herb, the quality of the paper that envelops that herb can make all the difference in the entire experience. Therefore, make sure whatever rolling papers you choose, you always opt for good brands with a reputation for quality. Take a look at our collection of rolling papers at Bern Gallery, and don't forget to grab a good rolling tray to keep the process neat and tidy.